Microsoft anunta introducerea unor noi functionalitati ale aplicatiei Teams.
Pe masura ce tot mai multe afaceri si scoli din intreaga lume functioneaza remote pentru siguranta si bunastarea angajatilor si elevilor / studentilor lor, Microsoft Teams joaca un rol esential in a-i ajuta sa ramana conectati prin intalniri video, apeluri si chat-uri.
Microsoft anunta introducerea unor noi functionalitati ale aplicatiei Teams pentru a imbunatati experienta utilizatorilor. Citeste mai departe pentru a vedea ce este nou.
Ce este nou: Intalniri si apeluri (Meetings & Calling)
Cresterea numarului de videoclipuri simultane in sedintele echipelor (Increase in the number of simultaneous videos in Teams meetings)
Conversatiile virtuale fata in fata sunt noua rutina pentru lucrul la distanta, iar acum mai mult decat oricand este important sa te simti conectat cu cei pe care ii intalnesti.
Microsoft creste numarul de participanti care pot fi vizionati simultan in timpul unei intalniri prin Teams de la 4 la 9.
Aceasta noua experienta este optimizata pentru participantii care au activat optiunea de videoconferinta si plaseaza participantii care au activat doar audioconferinta in plan secund. Pentru a oferi o experienta de inalta calitate audio si video, aspectul se va adapta, in functie de latimea de banda a utilizatorului si va modifica numarul de videoclipuri afisate pentru a oferi cea mai cea mai buna calitate.
Aceasta caracteristica a inceput sa se extinda. Daca inca nu apare pe dispozitivul tau, stai linistit, va aparea in curand, deoarece este o desfasurare (lansare) etapizata si poate dura pana la cateva saptamani pentru a ajunge la toata lumea.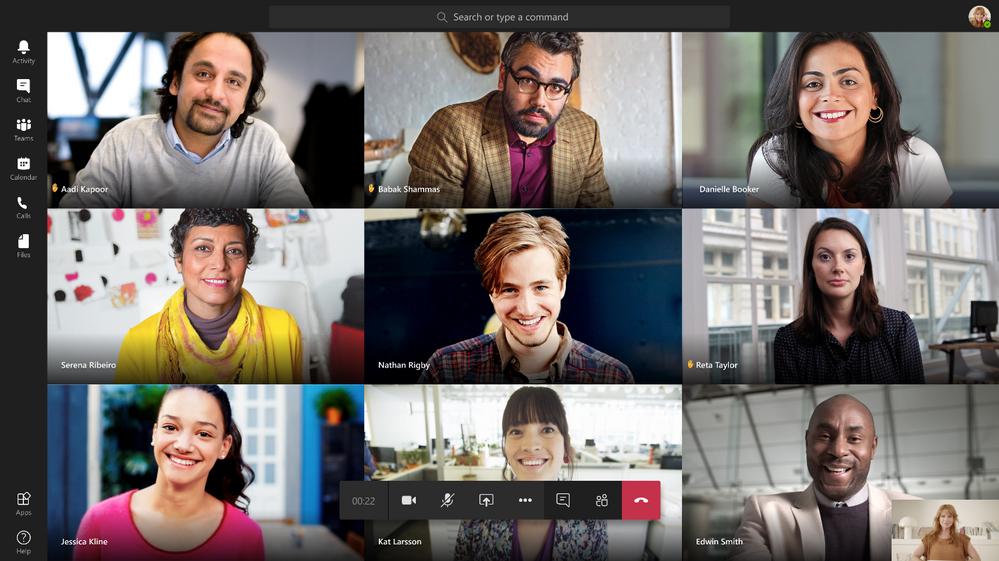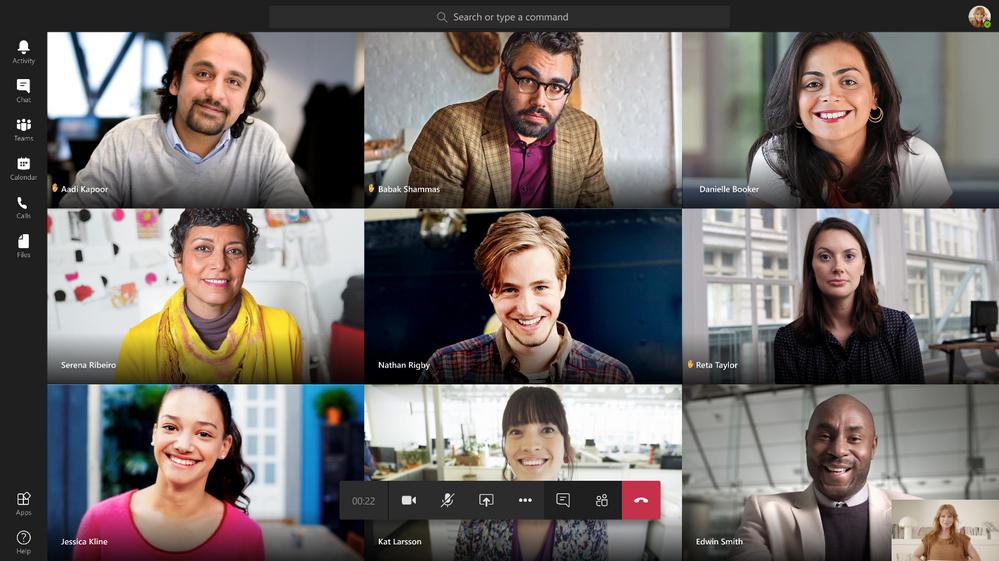 Ridica mana (Raise Hands)
Noua caracteristica "Ridica mana" in Teams permite participantilor la intalnire sa semnaleze ca doresc sa vorbeasca, facand mai usoara participarea activa la intalniri mari.
Toata lumea va vedea o nota vizuala asupra participantilor – precum si in lista de participanti care acorda prioritate celui care a ridicat mana mai intai – si le poate da posibilitatea sa participe la conversatie.
Este o functie noua si va aparea la inceputul lunii mai.


Efecte de fundal (Background effects)
Mentine atentia asupra ta, ceea ce e in spatele tau nu trebuie sa distraga interlocutorii.
In plus fata de functia de estompare (blur) a fundalului, care devine din ce in ce mai populara, Teams ofera acum un nou efect de fundal. Aceasta noua caracteristica permite participantilor la intalnirile online sa isi particularizeze fundalul, alegand o imagine dintr-o lista de imagini preselectate. In curand utilizatorii vor putea incarca propriile imagini pentru a fi folosite ca fundal in timpul videoconferintelor.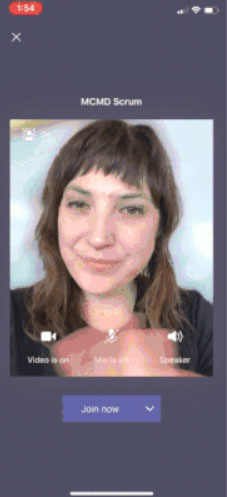 Estomparea fundalului pentru iOS (Background Blur for iOS)
Aceasta caracteristica frecvent utilizata pe desktop poate fi acum folosita si pe iPhone si iPad.
Subtitrari live in iOS si Android
Indiferent care este motivul pentru care nu auzi bine ceea se se discuta in cadrul intalnirilor online, subtitrarile live iti vor permite sa urmaresti si sa citesti ceea ce se discuta in timpul conferintelor prin Teams. Subtitrarile live sunt acum disponibile pe dispozitivele mobile iOS si Android in limba engleza.
Creste limita de participanti la Microsoft 365 Live Event
Pentru a ajuta clientii sa raspunda nevoilor de comunicare in continua schimbare, evenimentele live Microsoft 365 vor ridica temporar limitele implicite pana la 1 iulie 2020 pentru evenimentele live gazduite in Teams, Stream si Yammer. Urmatoarele cresteri vor incepe sa fie lansate la inceputul lunii mai:
Limita participantilor: evenimentele pot accepta pana la 20.000 de participanti (live events can support up to 20,000 attendees)
Evenimente simultane: 50 de evenimente pot fi gazduite simultan de pe acelasi cont (50 events can be hosted simultaneously across a tenant)
Durata evenimentului: durata evenimentului a fost marita la 16 ore per difuzare
In plus, Microsoft anunta recent suport pentru pana la 100.000 de participanti la eveniment parteneriat cu programul de asistenta a evenimentelor live. (support for up to 100,000 event attendees partnership with the Live Events Assistance Program)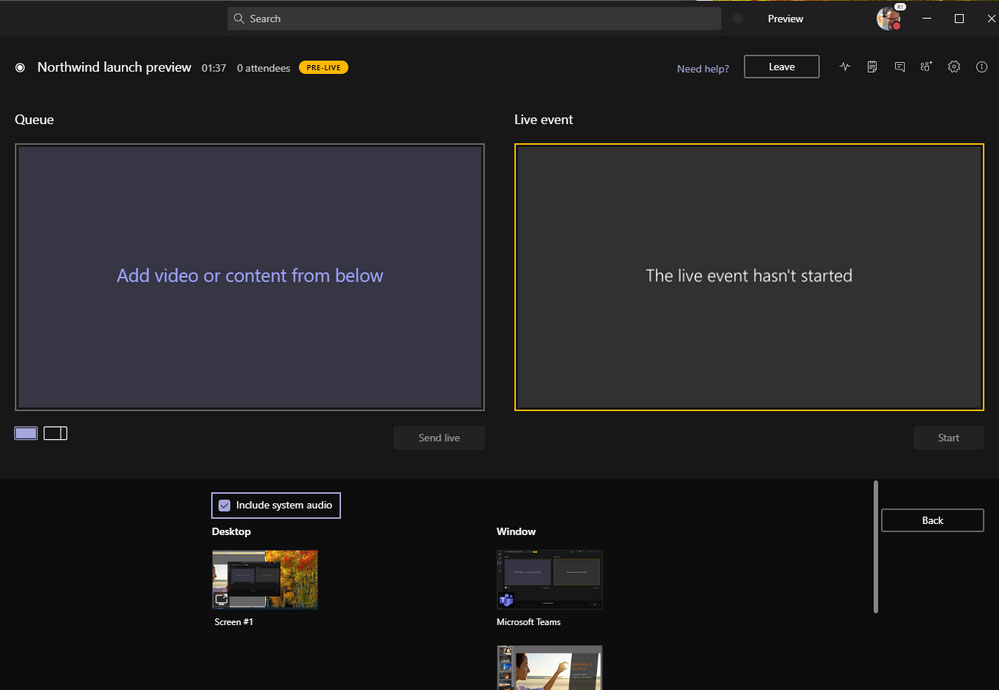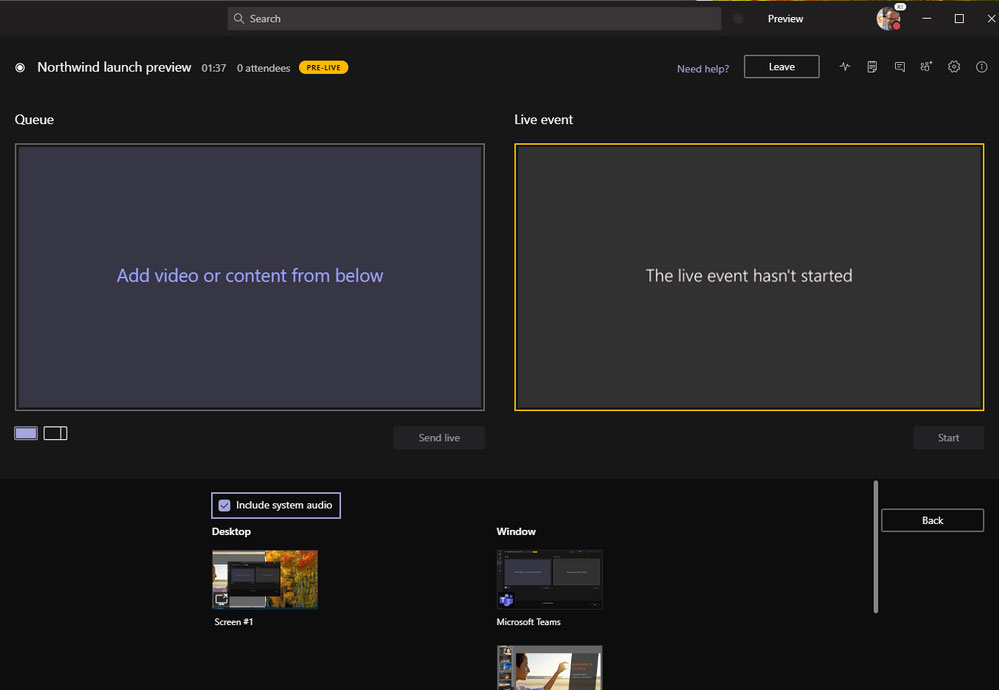 Partajarea sunetului de sistem in evenimente live Teams (Share system audio in Teams live events)
Cu partajarea audio in evenimente live, participantii vor auzi sunetul continutului pe care il partajezi pe ecran. Aceasta caracteristica functioneaza la fel ca partajarea sunetului din sistem in intalnirile Teams si este excelenta pentru partajarea experientelor audio si video cu participantii. Optiunea de partajare a sunetului de sistem poate fi utilizata doar de cel care initiaza evenimentul live de pe un dispozitiv Windows Desktop.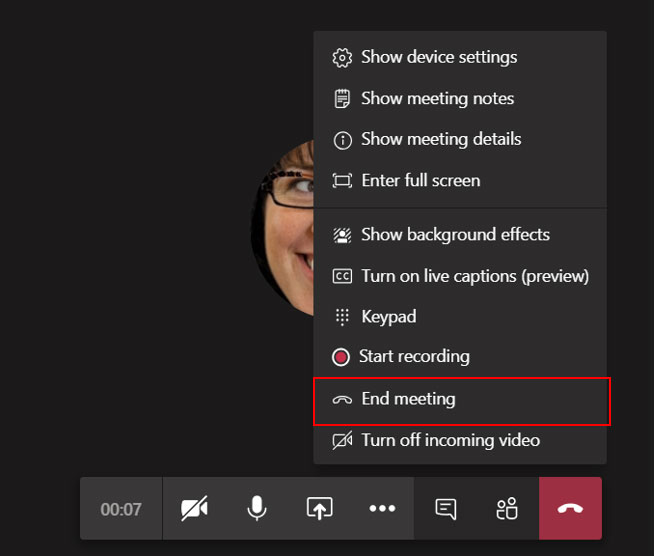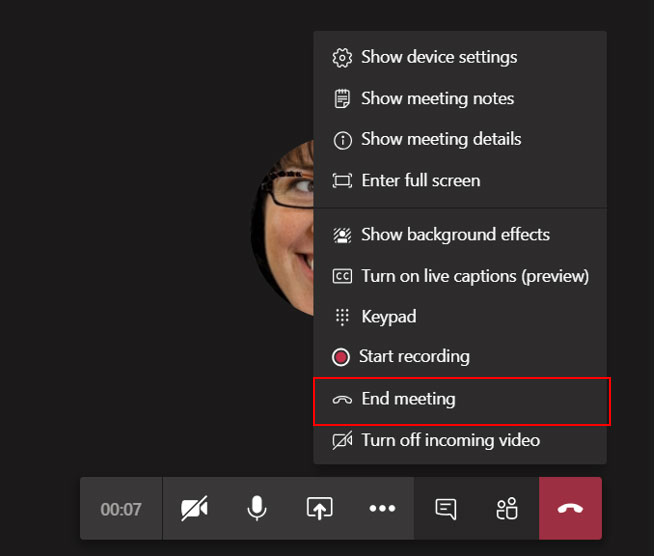 Incheierea intalnirii pentru toti participantii (end meeting for all participants)
Organizatorii intalnirii pot incheia intalnirea printr-o simpla apasare de buton. In bara de control a intalnirii, numai organizatorii intalnirii vor vedea un buton pe care scrie "end meeting". Toti participantii ies din intalnire atunci cand organizatorul apasa acest buton. Un exemplu excelent de scenariu relevant este in educatie: in unele situatii, reuniunile de clasa nu ar trebui sa continue dupa ce clasa se termina fara supravegherea profesorilor.
Inregistrarea apelurilor 1:1 (1:1 Call Recording)
Acum poti inregistra cu usurinta apelurile 1:1 in Teams la fel cum poti deja pentru intalniri. Pur si simplu selecteaza optiunea de a inregistra apelul si participantii vor fi notificati pe ecranul lor ca a inceput o inregistrare! Afla mai multe aici.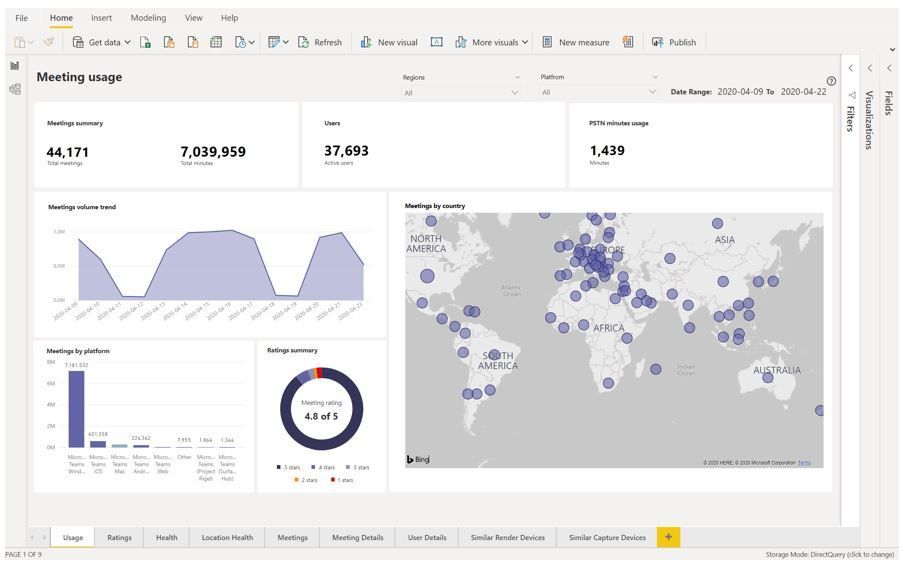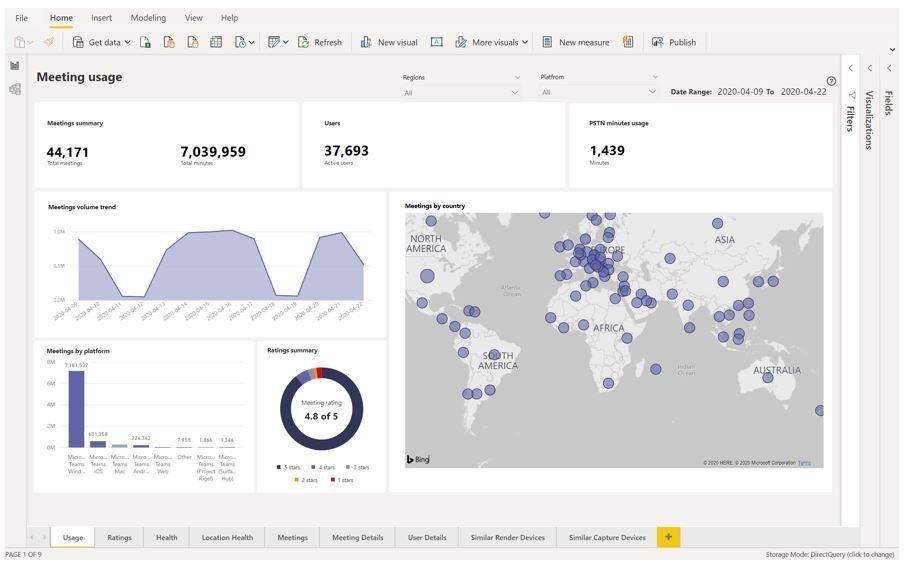 Noutati: Administrator IT
Noul tablou de bord al intalnirilor (Introducing the new Meetings Dashboard)
Noul tablou de bord din centrul de administrare Microsoft Teams te ajuta sa te asiguri ca utilizatorii au cea mai buna experienta posibila in timpul videoconferintelor si apelurilor, oferindu-ti informatii despre utilizare, feedback-ul utilizatorilor, starea de sanatate a retelei, detaliile intalnirii, dispozitive si multe altele dintr-un singur loc. Utilizand capacitatile Power BI, acest tablou de bord interactiv iti va permite sa filtrezi informatiile dupa indicatori precum ziua, tarile si platforma, permitandu-ti sa identifici rapid zonele care au nevoie de imbunatatiri si sa detaliezi pentru a descoperi cauza principala a experientelor slabe.
Pentru clientii care au nevoi sau cerinte deosebite, in curand va fi lansat un API care va permite clientilor si partenerilor sa exporte date despre intalnirile online si apelurile initiate prin Teams.
Controleaza setarile imaginii de profil in Teams (Control profile picture settings on Teams)
Variantele Teams pentru web si desktop recunosc acum setarile Outlook prin care se poate controla daca un utilizator isi poate schimba sau nu poza de profil. Administratorii pot configura aceasta setare de politica pentru a promova un mediu de lucru sau de scoala mai sigur, impiedicand utilizarea continutului neadecvat in imaginile de profil.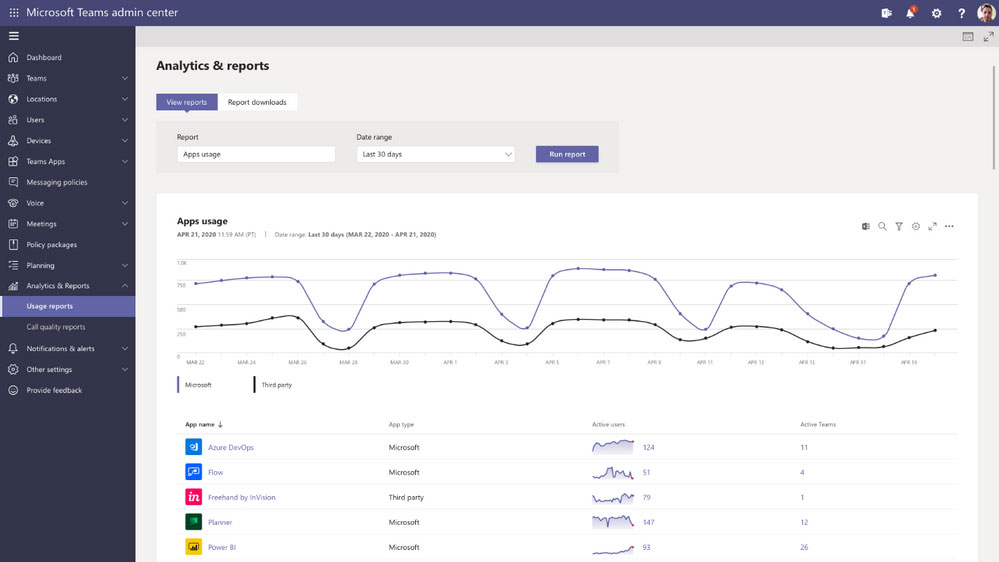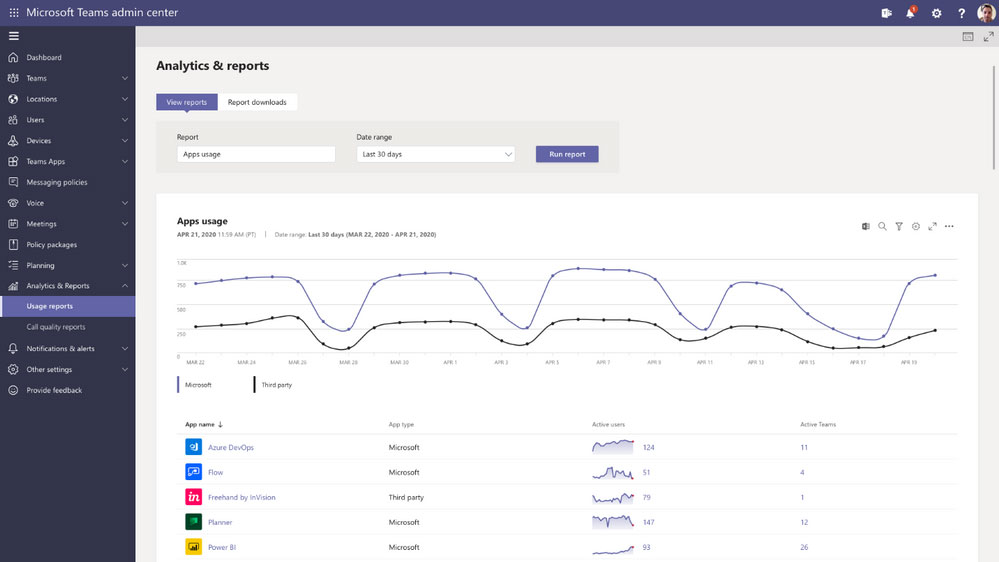 Functia de analiza si rapoarte. Obtine informatii despre utilizarea aplicatiei Teams in organizatia ta.(Get insights into Teams app usage in your environment)
Functia de analiza si rapoarte a aplicatiei Teams va oferi administratorilor informatii despre utilizarea Teams permitandu-le sa evalueze riscurile si sa ia decizii informate.
Administratorii vor putea vedea cati utilizatori sau echipe de utilizatori folosesc aplicatia si cat de des. In plus, politicile si setarile aplicatiilor permit administratorilor sa gestioneze permisiunile, sa defineasca modul in care sunt afisate alte aplicatii in timpul folosirii aplicatiei Teams si sa controleze disponibilitatea aplicatiilor personalizate.

Atribuie cu usurinta un set de politici unui grup mare de utilizatori (Easily assign a policy to a large group of users)
Microsoft Teams ofera un set robust de politici care da posibilitatea administratorilor sa adapteze si sa eficientizeze aplicatia in functie de situatie si de nevoile organizatiei. Atribuirea politicii pe un grup permite administratorilor sa simplifice procesul de atribuire a politicilor sau a pachetelor de politici unui grup mare de utilizatori. "CsBatchPolicyAssignmentOperation cmdlet" iti permite sa desemnezi un lot de utilizatori si o politica pe care doresti sa o implementezi utilizand o linie de comanda in PowerShell pentru a efectua actiunea. Un grup poate contine pana la 20.000 de utilizatori si administratorii pot specifica utilizatorii dupa ID-ul lor, numele principal de utilizator (UPN), adresa Protocolului de initiere a sesiunii sau adresa de e-mail. Afla mai multe despre atribuirea politicilor in Teams aici.
Noutati in controlul intalnirilor (New Meeting Control)
Setarea implicita a lobby-ului (default lobby setting).
Acum utilizatorii externi vor astepta in "lobby" inainte de a se alatura unei intalnirii, astfel organizatorul intalnirii se va asigura ca numai persoanele potrivite vor lua parte la intalnirea respectiva. Aceasta modificare de politica va avea efect numai asupra conturilor care nu au modificat politica de intalniri (default meetings policy).


Setari lobby pentru participantii PSTN (Lobby settings for PSTN participants)
Orice utilizator care programeaza o intalnire Microsoft Teams va vedea acum o setare separata pentru a controla lobby-ul pentru participantii la conferintele audio (PSTN) din pagina Optiuni (Meeting Options) a unei anumite intalniri. In plus, ei vor vedea, de asemenea, o noua optiune pentru a controla sunetul care anunta cand un PSTN / dial-in participant se alatura sau paraseste intalnirea.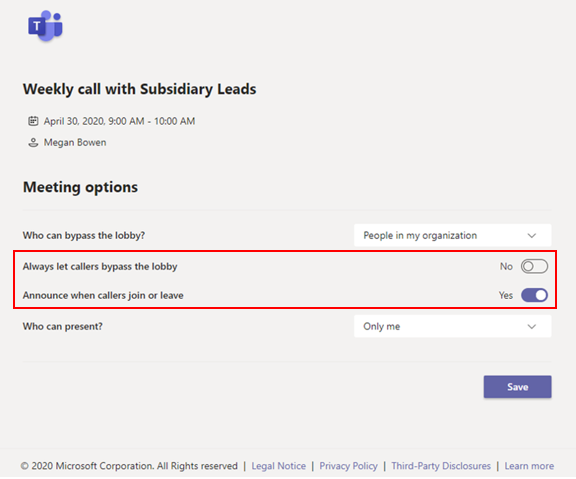 Ce este nou: Chat & Collaboration
Aplicatia Yammer pentru Microsoft Teams este acum disponibila! (The Yammer app for Microsoft Teams is now available!)
Noua aplicatie Yammer pentru Microsoft Teams permite o experienta Yammer complet interactiva in hub-ul pentru lucrul in echipa, ajutandu-te sa ramai conectat la ceea ce se intampla in organizatia ta. Te poti conecta cu comunitatile (echipele) tale din Yammer direct in cadrul Microsoft Teams. Urmareste evenimente live (live events), distribuie anunturi, identifica conversatii si marcheaza cele mai bune raspunsuri la fel cum ai face in Yammer. Nu mai este nevoie sa treci de la o aplicatie la alta.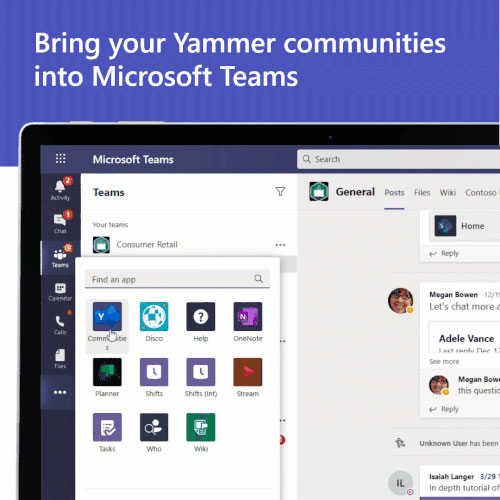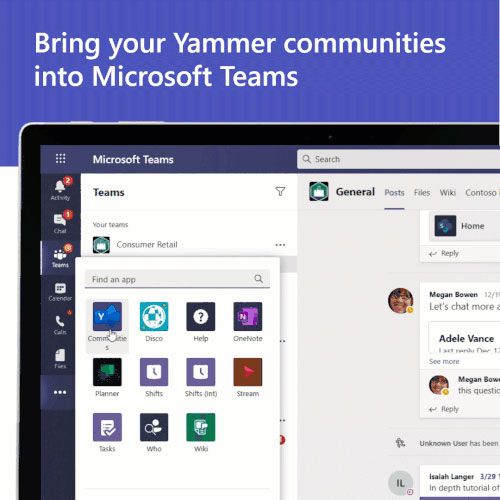 Pur si simplu adauga si fixeaza (pin) aplicatia Yammer pe calea de navigare si vei avea Yammer in Teams. Mai multe detalii aici
Ce este nou: Noi declansatoare si automatizari Power Automate in Teams (What's New: Additional Power Automate triggers for Teams)
Simplifica sarcinile de rutina in Microsoft Teams cu doua noi declansatoare Power Automate. Declanseaza actiuni atunci cand un nou coechipier se alatura – fie ca este vorba de crearea unui mesaj de bun venit sau de partajarea materialelor de inscriere.
Utilizatorii pot construi fluxuri direct in Teams folosind aceste noi declansatoare (triggers), chiar daca acestea declanseaza actiuni in afara aplicatiei Teams.
Ce este nou: Teams pentru educatie (invatamant)
Intalniri online in Teams pentru invatarea la distanta (Teams meetings for remote learning)
In ciuda inchiderii scolilor, profesorii pot ramane conectati cu elevii lor si pot sustine in continuare orele de curs prin intalniri online cu Microsoft Teams. Iata cele mai recente indrumari privind modul de eficientizare a invatarii si mentinerea in siguranta a elevilor in cadrul conferintelor prin Microsoft Teams.
Afla care sunt cele mai noi functionalitati si care sunt cele mai utile pentru intalnirile cu elevii in cadrul acestui webinar
Configureaza o intalnire in Microsoft Teams pentru sala de clasa online direct din Canvas, Blackboard, Schoology si alte LMS-uri. Invata cum sa faci asta din acest ghid
Asigura-te ca elevii sunt in siguranta in cadrul sedintelor Teams urmand aceste recomandari
Evenimente live pentru licentele A1 (Live events for A1 faculty licenses)
De la inceputul lunii mai, capacitatile de gazduire a evenimentelor live (live events) Microsoft Teams vor fi disponibile si utilizatorilor din invatamant cu o licenta Microsoft Office 365 A1, fara costuri suplimentare. Asta inseamna ca utilizatorii cu licente Microsoft Office 365 A1, care sunt gratuite pentru institutiile de invatamant acreditate, pot gazdui si difuza evenimente live. La inceputul lunii mai, evenimentele live vor fi activate automat pentru utilizatorii cu licenta A1 si vor fi dezactivate automat la 1 iulie 2020.
Iata o prezentare generala tehnica si un ghid introductiv pentru a afla mai multe despre evenimentele live Microsoft Teams (Microsoft Teams live events) .
Cum obtii Microsoft Teams si cat costa?
Cea mai importanta caracteristica a Microsoft Teams este aceea ca poate deveni one stop shop, ceea ce inseamna ca poate integra celelalte aplicatii din suita Microsoft 365. Deci daca ai deja unul din planurile (abonamentele) Microsoft 365, deja ai Teams.
Daca esti persoana juridica iti oferim Microsoft Teams gratuit timp de 6 luni.
Pepas Cloud iti ofera, in parteneriat cu Microsoft, Office 365 Enterprise E1 Trial timp 6 luni. Daca esti interesat de Microsoft 365, iti oferim licenta gratuit timp de 3 luni la nivelul pachetului Microsoft 365 Business Standard.
Institutiile de invatamant acreditate de Ministerul Educatiei, birourile de administrare ale acestora precum si bibliotecile si muzeele publice vor primi gratuit, pe o perioada nelimitata, licenta de Office 365 A1. Tot ce trebuie sa faca este sa ia legatura cu Pepas Cloud si sa isi exprime dorinta de a folosi Microsoft/Office 365.
Cat costa Microsoft Teams dupa perioada de gratuitate?
Ar fi pacat sa privesti Teams ca pe o aplicatie singulara, ai pierde din vedere perfecta integrare cu celelalte aplicatii Microsoft – cum ar fi serviciul de mail, pachetul Office, spatiul de stocare in cloud (OneDrive) sau platforma de intranet (SharePoint).
Un pachet care sa le includa pe toate acestea porneste de la 4.20 € + T.V.A. pe luna per utilizator, dupa perioada de gratuitate.
In functie de ce nevoi si particularitati are afacerea ta, dupa ce stam de vorba si ne spui mai multe despre modul de lucru in cadrul afacerii tale, te vom sfatui care din abonamentele Microsoft este cel mai potrivit pentru tine.
La Pepas Cloud ajutam din ce in ce mai multi clienti sa treaca de la Skype for Business "on premises" sau alte aplicatii de chat la Microsoft Teams (in cloud) si odata cu asta trebuie luate in calcul mai multe caracteristici ale retelei (de internet), ceea ce nu era necesar anterior. Nu iti face griji, nu trebuie sa te ocupi tu de asta, aceasta este expertiza noastra si te vom ajuta noi sa implementezi rapid si corect Microsoft Teams cat si alte aplicatii de comunicare si colaborare ce fac parte din Office 365 sau Microsoft 365.
Indiferent ce aplicatii de chat folosesti noi te putem ajuta cu migrarea la Microsoft Teams si sa folosesti corect si complet aplicatia pentru a beneficia de toate avantajele pe care le aduce in lucrul de la distanta.
Pentru mai multe detalii ne auzim la telefon 0756225522 sau ne poti scrie la contact@pepascloud.ro